Over the last few years, I've remained rather quiet on a couple topics.
Now, I'm at a point where the News is starting to feel more and more like a movie.
Like.. I've accidentally entered a twilight novel or movie.
Worst part of the movie, I'm living in it.
— update, impeachment vote completed.
House votes 232-196 to pass the resolution setting out rules and formalizing the impeachment inquiry. Buckle up y'all. #ImpeachmentVote pic.twitter.com/PzJeJwyROk

— Adam McDuffie (@Adam_McDuffie) October 31, 2019
WHAT IS FRAUD GUARANTEE?
You're likely wondering, what is it? I would tell you but I don't think you would believe me immediately.
So let's start with the background. I'm often writing these blogs in place of having a journal. The reason for journaling is because I want my son to read something when he grows up, read something about the time where he wasn't able to maintain an archive of information, or let alone manage writing a sentence with a pencil.
Fraud Guarantee, is the name of a company. But let's discuss how we got here. There's more to this story.
Over the past few weeks, the non-stop chatter about Trump's Impeachment has been ground shaking, to say the least.
But rather than giving my opinion, it seems rather important to keep it about the facts.
Data, data visualization, that cool stuff.
Let's circle around and pretend we understand the "Washington Post" recent survey…
Which I found them sharing with Googlesheets, *sigh*.
It was a rather large view of data.
Try to make sense of this dump. Even with visualizing the data, it's a rather big matrix of information…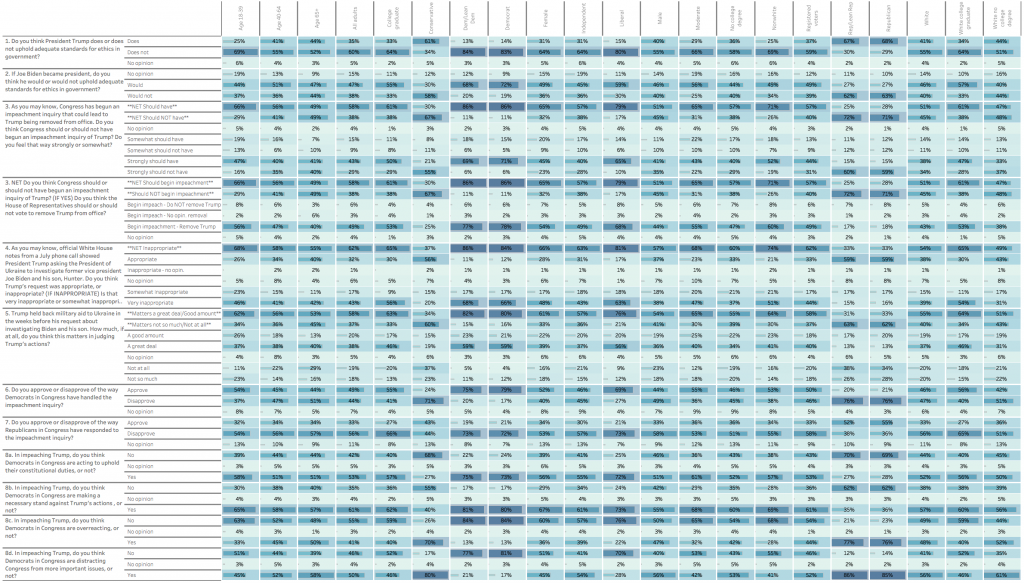 You can find the data here. Or their release of the survey here.
With that said… the latest "Fraud Guarantee"
I want to say, I warned you. Below, it's all interesting stuff.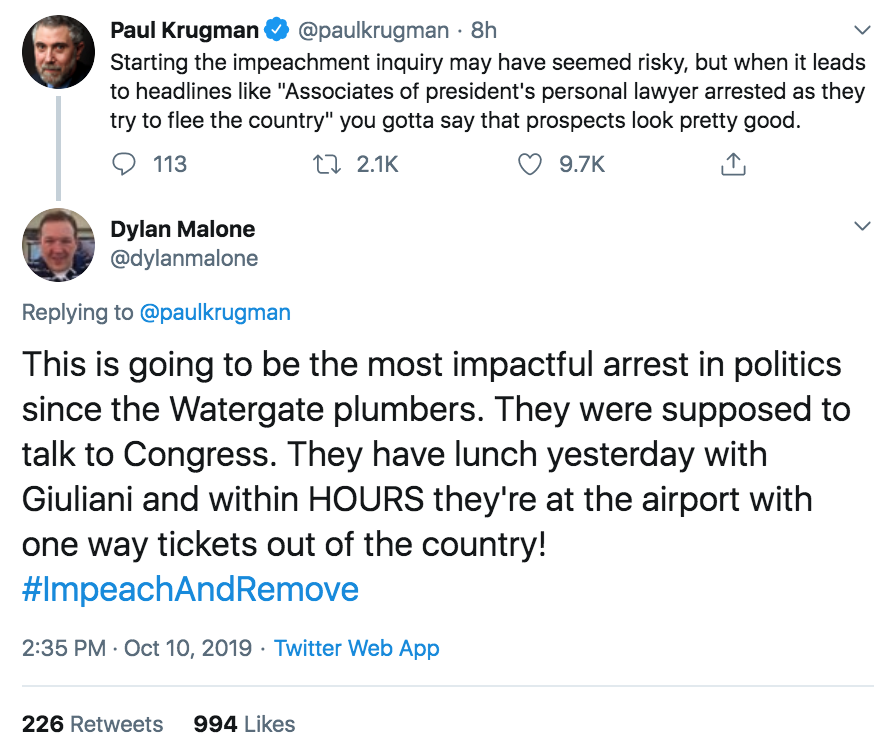 When reading things like this.. you start to think. There's nothing that can top this particular grain of information. It was so interesting, I took a screenshot and shared it on Facebook. It was the first time I've shared anything on facebook since I decided to stop using the app.
Fraud Guarantee is a new Twitter trend…because that's the name of a business Giuliani…
Wait wait… Who cares about this guy, what the hell.
Someone called their name Fraud Guarantee.
So, yes, I'm thinking, "what's Fraud Guarantee"… I must see!
Yet, I'm awkwardly found myself watching Giuliani.
Come on

"Even as he worked with Mr. Parnas's company, Fraud Guarantee, Mr. Giuliani increasingly relied on Mr. Parnas …" https://t.co/Y90Y25coN3

— Ryan Lizza (@RyanLizza) October 11, 2019
I will admit, I don't know who Giuliani is, or what he looks like, but I can hear things and I can see stuff. So here's this.
A video of Giuliani @ Trump Hotel… Can you make this stuff up?
Maybe Rudy Giuliani shouldn't have made this video of himself and his Ukraine co-conspirators Orb Parnas and Igor Fruman WHILE they were planning their getaway, at the Trump Hotel. #EqualityTownHall Fraud Guarantee. ; https://t.co/acflE9oQtH pic.twitter.com/jeLGYUCvOm

— Robert De Niro (@RobertDeNiroUS) October 11, 2019
In this video, are a couple of arrested people says the New York Times.
Wild.
So, I guess #FraudGuarantee is more of an open forum to hammer this trial conviction through the courts. Where millions of people are starting to get in on this, which boom… It's a trend.
It's hard to think this is happening.
The men, Ukrainian-born Lev Parnas and Igor Fruman, originally from Belarus, are accused of conspiring to "circumvent the federal laws against foreign interference by engaging in a scheme to funnel foreign money to candidates for federal and State office," according to a four-count indictment in the Southern District of New York. Two other men, David Correia and Andrey Kukushkin, also face charges

CBS News…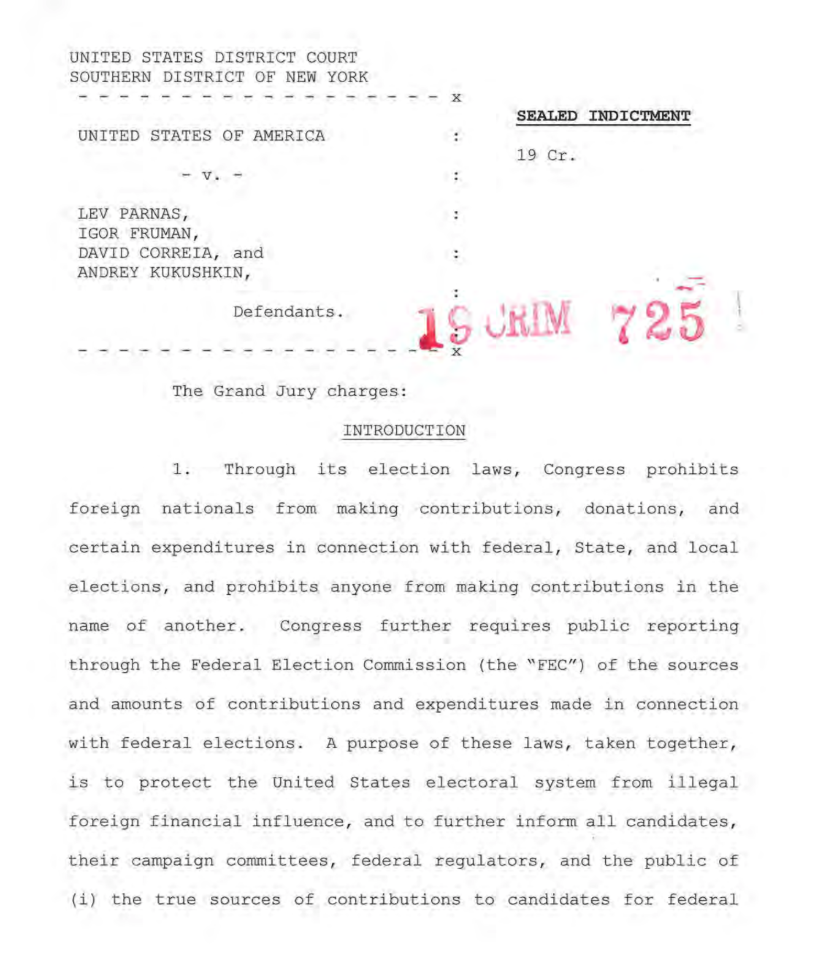 Fraud Guarantee…
The name of the employer. Fraud Guarantee, lol.
I'm sitting here patiently scripting together data, what my developer friend loves to call normalizing, and because I'm over it… i call it "cleaning."
Sorta like you call a business something, but for some reasons this person thought Fraud Guarantee was a good option.

The name of the company is Fraud Guarantee, haha wait…
No. There is no way I'm believing the company is called Fraud Guarantee https://t.co/x9yU0crTbz

— Jon Favreau (@jonfavs) October 11, 2019
Meanwhile…
WOW, THANK YOU Minneapolis, Minnesota — on my way! #KAG2020 pic.twitter.com/Czl6GbCCxN

— Donald J. Trump (@realDonaldTrump) October 10, 2019
Outside is a large protest, the video above is a video of the other crowd.
Found on a sidewalk outside the #MinneapolisTrumpRally pic.twitter.com/O0JZAoWGCB

— Zach D Roberts (@zdroberts) October 10, 2019
Interesting handouts for Trump supporters to read. Not a bad idea.
Oh and here's the same Trump Rally, the other side of it, the Protest that lasted late into the night.
It's getting dark but we're still going strong! #ThisIsWhatDemocracyLooksLike #MinneapolisTrumpRally #MinneapolisProtest pic.twitter.com/YK5FgHU5hE

— 👻 Jordan Waghoulman 👻 (@demotif) October 11, 2019